| BUSINESS.EBANX.COM | When business, social justice, and politics collide
Around the globe, the lines separating business, politics, and social justice are more than simply blurred. Instead, they have become inextricably entwined. Political and social turmoil is a global phenomenon, and one that Latin Americans have unfortunately grown more accustomed to than in many parts of the world.
As global citizens across the world's diverse continents and cultures react to upheaval, business leaders — historically reluctant to weigh in on political and social issues — now face increasing pressure to respond. That's where trust, an invaluable and ever-shifting currency, comes into play.
The Edelman Trust Barometer 2021, a global survey of more than 33,000 people living and working in 28 different countries, including Brazil, ranks the trustworthiness of four institutions: business, government, the media, and NGOs. Of the four pillars, the study found that, for the first time, businesses took the top trust position (61%) outpacing government (53%). Not a surprising outcome given the pervasiveness of fake news and misinformation around the world.
What's more, a stunning 86% of respondents expect CEOs to take a public stand on these issues: the global pandemic's impact (59%); job automation (51%); societal issues (43%), and local community issues (40%). The PR firm's CEO Richard Edelman, whose global consultancy conducts the annual study, refers to these times as an "era of information bankruptcy." Edelman believes and advises that guarding information quality is the best opportunity business leaders have at their disposal to build trust.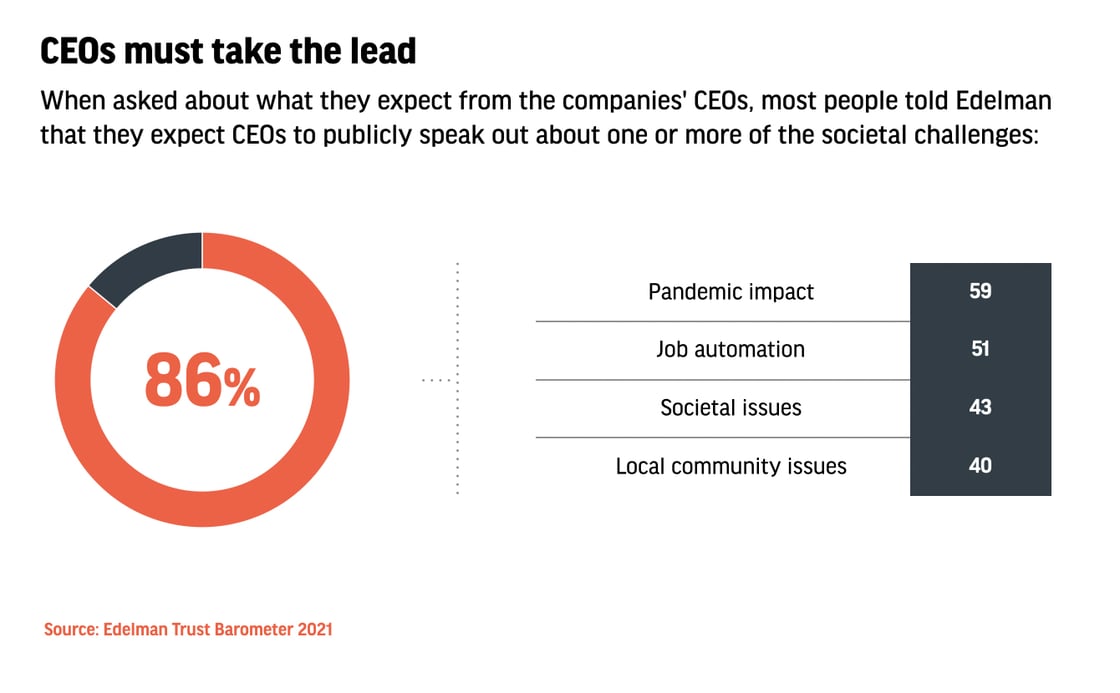 "This is a moment when brands can prove that they put people, not profits, first. Respond with compassion and make a difference; this is the true test for purpose-driven leaders. The people are counting on us to deliver," said Edelman in a company statement.
Emerging from information bankruptcy, as the Trust Barometer graphic below indicates, requires social-savvy businesses to embrace an expanded mandate: lead with facts and act with empathy, provide trustworthy content and find common ground with the other institutions rather than go it alone.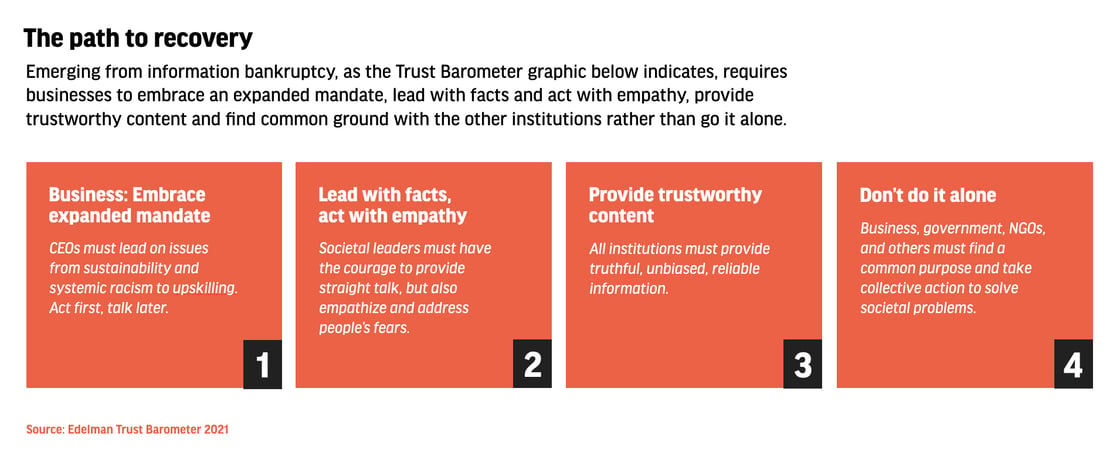 While navigating these waters may be complicated and not without risk, the annual Edelman study shows that businesses can no longer sit quietly on the sidelines. Let's look at a few examples of corporate responses to social justice issues — both in the U.S. and in Brazil.
If you want an example of a CEO who places social justice at the center of his business, look no further than Bill Penzey of Penzey Spices, the largest independent spice company in the U.S. Well-known for his outspoken support for racial justice, the Black Lives Matter movement, the continued fight for the LGBTQ+ community, immigrants' rights and other issues facing marginalized populations, Penzey shares his views with customers regularly in the company newsletter.
After calling Trump a racist, Penzey's lost 3% of its customer base, but soon, online sales increased nearly 60% and gift-box sales more than doubled that percentage. He spent more than $700,000 for pro-impeachment ads on Facebook, and then "looted" his Kenosha, Wisconsin store to donate the entire inventory to local food pantries and other organizations working for positive change.
Rather than shy away from what some CEOs perceive as controversy, Penzey believes that when people are cruel to different minority groups, there's an opportunity for businesses to step in to help.
"The vast majority of people don't want to be mean to anybody. If, as a business, you show that you honestly care about marginalized people, the customers who want companies to care show up, and it all just seems to work out," Bill Penzey, CEO at Penzey Spices.
Despite his very public stance, the company has more customers coming in than it's losing. "People drift away, and then they come back," said Penzey. "What can I say? We have really good ground cumin."
Looking for a brand that completely missed both the social justice and authenticity mark? Look no further than Pepsi's abysmal ad campaign. In it, the American model, socialite, and media personality Kendall Jenner hands a can of the sugar-filled soda pop to a police officer during what appears to be the world's happiest protest. The totally tone-deaf ad, pulled the same day it aired, was rightly excoriated for trivializing the deaths of Black people at the hands of police.
The fight against racial injustice in the U.S. exploded into nation-wide protests and social unrest following last year's death of George Floyd — under the unrelenting knee of a white police officer in Minnesota for nine minutes and 29 seconds.
Proving to be both a flash point in the U.S. and a spark for similar movements and sympathy marches around the world, major global brands — many, such as Amazon, Netflix, and Nike, with a Latin American presence — took a stand, backed by meaningful action against systemic racism, as reported in this AdAge blog that tracks how brands respond to racial injustice.
The global stance of these brands found resonance in other markets, such as Brazil. The country has a much larger black population (54% of the total) than that of the United States, and it witnesses cases of police violence or neglect far more frequently than Americans. Ironically, cases similar to George Floyd's or Breonna Taylor's do not receive the same attention in the country from companies, authorities, or even the media.
For example, Floyd's murder took place exactly a week after the death of the 14-year-old black boy João Pedro Mattos, during a police operation on Salgueiro's community, in São Gonçalo, in the Metropolitan Region of Rio de Janeiro. According to the official autopsy of João Pedro's body and witnesses, he was hit by a bullet in the back after police raided his home allegedly in pursuit of a drug dealer. However, most of the demonstrations by artists, experts, and celebrities about the João Pedro case only happened in the wake of the George Floyd case.
Addressing diversity, equity and inclusion at tech startups
Silicon Valley Bank (SVB), an international financial services organization headquartered in Santa Clara, California, also has interests in Latin America — including the Latam Growth Lending Fund it launched last year with other investors.
It's no secret that big tech has a big diversity problem. An integral part of the tech-startup ecosystem for more than 20 years, SVB has had a front-row seat to the industry's (and its own) shortcomings. According to Andy Tsao, the bank's managing director and head of global gateway business, the company began examining diversity and inclusion within the organization looking for ways to improve. "It's been a corporate priority to increase diversity and inclusion for the past five or more years," said Tsao.
Answering questions about your DEI policies isn't always easy or comfortable. No one knows this better than Cristina Junqueira, the co-founder and CEO of Brazil-based Nubank, Latin America's largest neobank. The company, we should note, is a client of Silicon Valley Bank.
During a TV interview last year, Junqueira ignited a social-media firestorm when she said Nubank couldn't lower its job-requirement standards to include more Blacks in leadership roles. Since then, Nubank has publicly apologized and vowed to improve its racial diversity. It also launched Semente Preta, a BRL 1 million investment fund for startups founded or led by Black entrepreneurs, created a partnership with the Instituto Identidades do Brasil to promote racial equality, and will invest BRL 20 million to train 1,250 Black programmers.
Whether this is a long-term commitment to enact real change within the organization remains to be seen. We requested an interview with Nubank to discuss its plans and provided them several weeks to comment, but the company declined our invitation.
You could find more about this article on the website business.ebanx.com HERE
You could read more about You read, we publish Here, about Publishing World News Here, Blue Green World Here